The Goal of Being a Member
The goal is simple. We seek to better inform and educate those with an interest in cemetery preservation. This is about historical restoration being taught to you in the most do no harm manner possible. This is accomplished with historical techniques and materials. We have collected the best current information available from a variety of credible sources for you to reference and assist you in this goal.
Being a CCUS Approved Member is Simple
It means you have attended a class that adheres to CCUS BASIC STANDARDS for cemetery preservation. It can be an actual CCUS class or a preservation class put on by another CCUS member. This is about learning the 6 VERY BASICS of preservation. NOTHING takes the place of hands on experience. This is why taking this class is required to become a member.
These are the BASICS and only the VERY BASICS. Becoming a cemetery preservationist or conservator takes a lot of experience, which can only be gained over time with more training and education. This is meant as an introduction to the field only.
These basic standard techniques are as follows.
1…CLEANING…Learning proper grave marker cleaning with a safe & gentle biowash product. Like the same one used at Arlington National Cemetery.
2…THE SIMPLE 2 PIECE TABLET & BASE SOCKET…Learning how to reset a marble tombstone in a sandstone base by leveling the base & mortaring in the tombstone.
3…TABLET SET…Learning how to dig a level a slot in the ground & use the rule of 1/3's to set a simple tablet type tombstone. This procedure is also the way similar upright military markers are placed.
4…EPOXY…Learning how to clean, align, & fix a broken tablet with a proper epoxy meant for cemetery restoration.
5…SMALL MULTI PIECE MONUMENT RECONSTRUCTION…Learning how to use the tri-pod, hoist, & straps to disassemble the monument, clean it, level it, & reassemble it.
6…INFILL INSTRUCTION…Learning the final touch to tombstone & monument repair. It's basically the fine mortar used to fill in cracks & aesthetic damage when the repairs are finished.
These standard techniques are relatively straight forward and are not as hard to learn as you may think. Reading through the information on this site ahead of time is strongly recommended before you attend a class. Those who have previous experience with cemetery preservation may join through other means that prove they know and adhere to the standards above.
CCUS Certification
Is a simple certification of completion for participating in the above structured program. It means you have attended the hands on workshop or class, participated in the 6 basic procedures, and acknowledge these do no harm methods.
Being Certified in all 6 Standards or Some of them
When people attend these classes, they come from all walks of life, all ages, and may choose to participate at different levels. Your amount of participation and level of learning is up to you. Some will attend merely out of some interest in the subject matter. Others will attend with the intent to do something on their own with the training they have received. This may be for the purpose of taking care of an ancestor's grave marker. It may be to gain the education needed for a small group to begin successful restorations on a local cemetery. And it may be some ones introductory beginning to do it as a profession. The purpose and intent is up to you.
And with this being said, we have devised a certificate of completion that fits all intent and purpose of those who attend. The certificate will have all 6 areas of possible completion listed. The instructor will sign, date, and stamp the areas you have completed. The number of areas you wish to complete is up to you.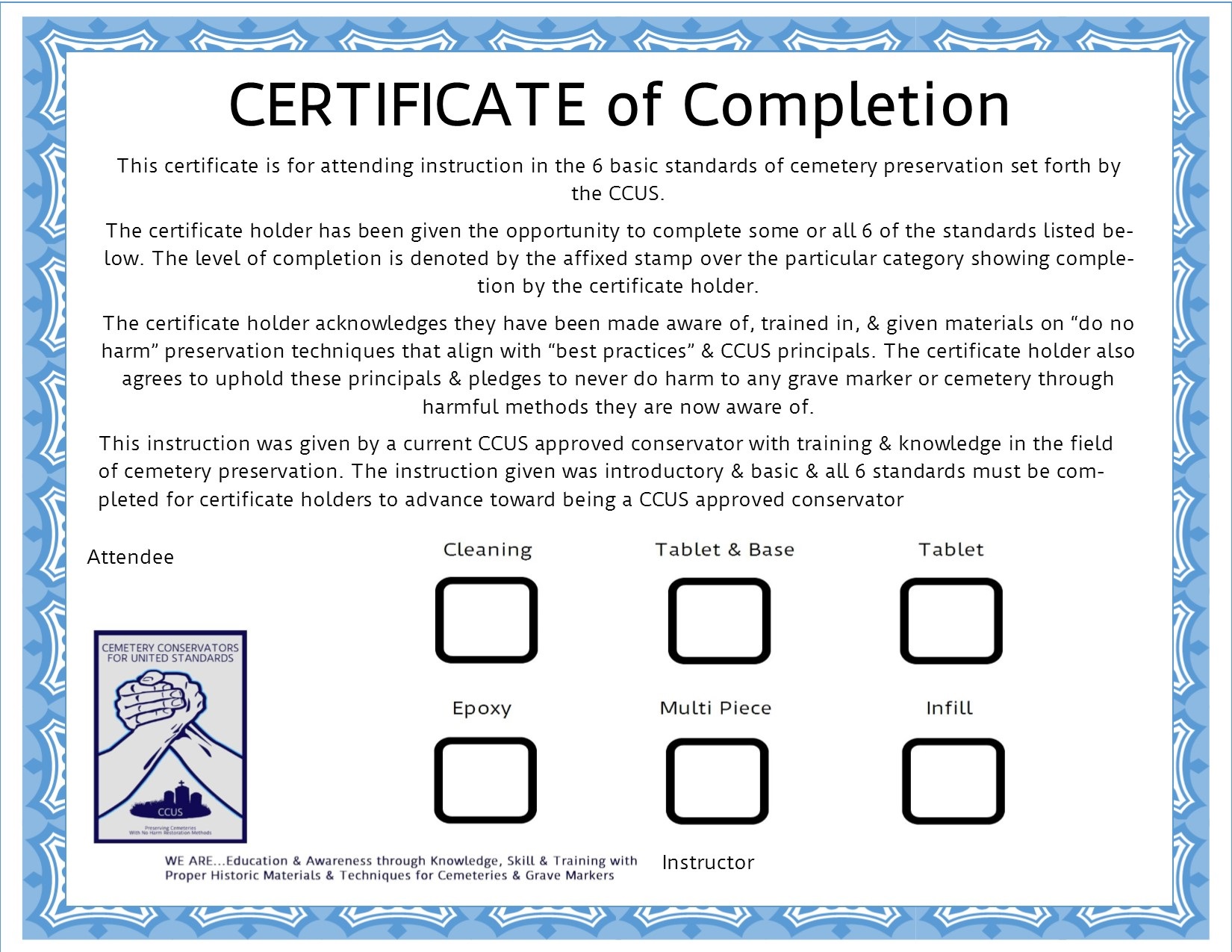 What Good Does it do to Have a Certificate of Completion?
Your certificate shows you have learned something about cemetery preservation. That basic knowledge has most likely put you ahead of the majority of people. Because the subject of historic cemetery preservation is not widely known or practiced. Having this knowledge will aid you in future projects you may wish to attempt by lending credibility to what you want to do. If for instance you need to approach a cemetery board, cemetery association, or township trustees concerning some level of preservation. You can at least show you have some level of training. You can also back that up with the CCUS website or if need be, put them in contact with a more experienced member that does this professionally. We are a support system for you and good preservation.
And between what you have learned and our expansive knowledge base, you will have a go to source for good preservation awareness. This may also help stop any damaging practices you stumble across by making others aware.
The Seal of Approval Simply Means
You have attended a class and gained a certificate of completion in all 6 areas of CCUS BASIC STANDARDS. It means you grasp the overall concepts of historic preservation. It means you have taken a pledge to do no harm method restorations to the best of your abilities. It also means you will only attempt preservations that you have knowledge to proceed with. In short, it means you are CREDIBLE.
Think of this seal of approval like our version of the good housekeeping seal. It shows you have gained enough knowledge combined with the commitment to do what is right in the field of cemetery preservation. It puts you in a network alongside others who are doing the same thing, and shows you are supported by the others in this network. And it provides a "go to" place for those seeking cemetery preservation through a credible source in their area of the country.