We are pleased to offer a variety of T-shirts for the Cemetery enthusiast in all of us. All of our T-shirts have a cemetery theme of one type or another, from appreciation to support to safety. No matter which one you choose, it will show your personal interest in cemeteries. It will also help to support education and awareness for these often neglected places and help raise funds for needy cemeteries.
We will be adding many more styles, colors and cemetery themes in the near future
All shirts are a quality 50% cotton/50% polyester blend "Jerzees" brand T-shirts.
Sizes range from large to 5X  
2X to 3X add $3.00 each to total shirt cost
4X add $4.00 each to total shirt cost
5X add $5.00 each to total shirt cost
KEEP CALM AND VISIT, PHOTOGRAPH, DOCUMENT, RESEARCH & APPRECIATE CEMETERIES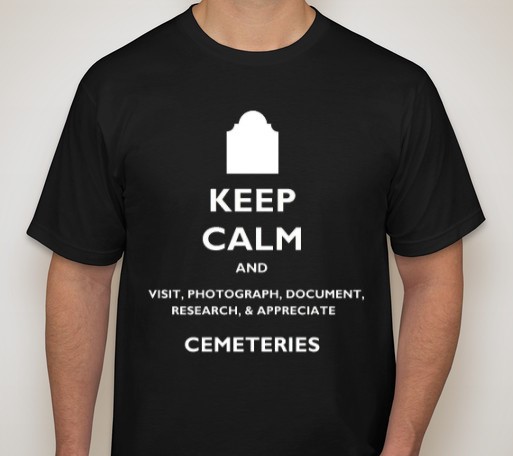 Single Sided Front Print "white image on black"
1 shirt orders $26.00 each with FREE shipping
2 to 4 shirts per order $24.00 each with FREE shipping
5 to 8 shirts per order $23.00 each with FREE shipping
For orders of more than 8 shirts…contact us for a quote
Click Here
CEMETERY CONSERVATORS FOR UNITED STANDARDS…Logo and Mission Statement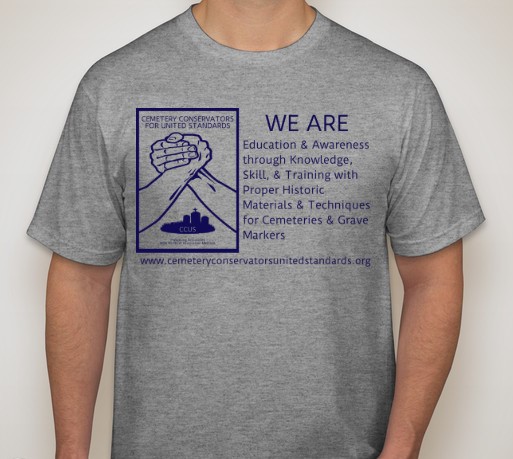 Single Sided Front Print "blue image on gray"
1 shirt orders $26.00 each with FREE shipping
2 to 4 shirts per order $24.00 each with FREE shipping
5 to 8 shirts per order $23.00 each with FREE shipping
For orders of more than 8 shirts…contact us for a quote
Click Here
CAUTION…Historic monuments may be unstable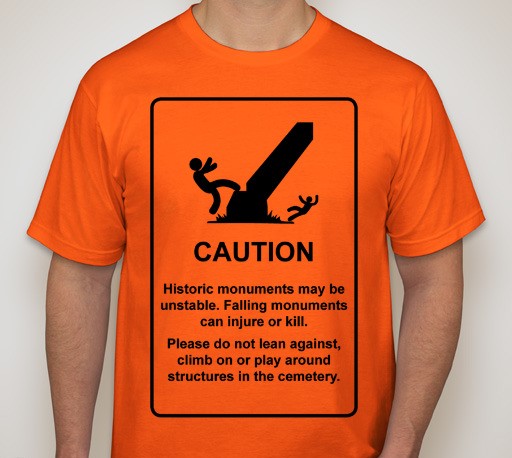 Single Sided Front Print "black image on safety orange"
1 shirt orders $26.00 each with FREE shipping
2 to 4 shirts per order $24.00 each with FREE shipping
5 to 8 shirts per order $23.00 each with FREE shipping
For orders of more than 8 shirts…contact us for a quote
Click Here