Written by Cynthia Nicols of the CCUS
Rush County Genealogical Society recently invited former Fayette County Cemetery Commission Board members, Dave and Cindy Nicols, of Connersville, Indiana, to give a short presentation on Preserving Pioneer Cemeteries, and how to get the information and training needed to learn the basics. The presentation was Saturday, March 10 at 11:00 a.m. in the meeting room of the library.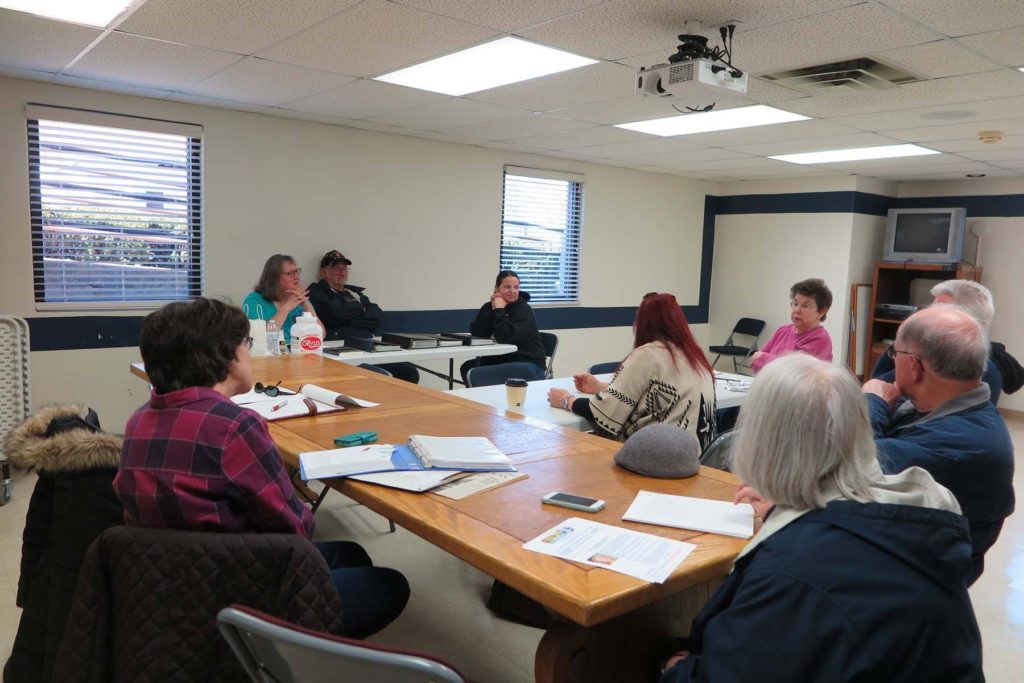 Prior to the presentation, the RCGS held a short business meeting. Those attending the were (from left to right) Marilyn Yager, Cindy Nicols, David Nicols, Aimee Brumfield, Donna Tauber, Katrina Cole Cooper (back to camera), Marilyn Roberts, Don Biehl, John Saxon and Carol Jones (not pictured) Photos provided by Carol Jones.
The short informational presentation was followed by a question and answer period with everyone present being involved. The Nicols handed out samples of Orvis soap along with a guideline to cleaning gravestones and the web link to Cemetery Conservators for United Standards.
At the conclusion of the discussion, Carol Jones presented a check to Aimee Brumfield (current President of the Fayette County Cemetery Commission) to be added to the money in the VFW funds being used to help with preservation of the Pioneer Cemeteries that the FCCC is tasked with.
Carol Jones, President of the RCGS, presenting a check to Aimee Brumfield (President of the FCCC) Left to right: Dave Nicols, Carol Jones, Cindy Nicols, Aimee Brumfield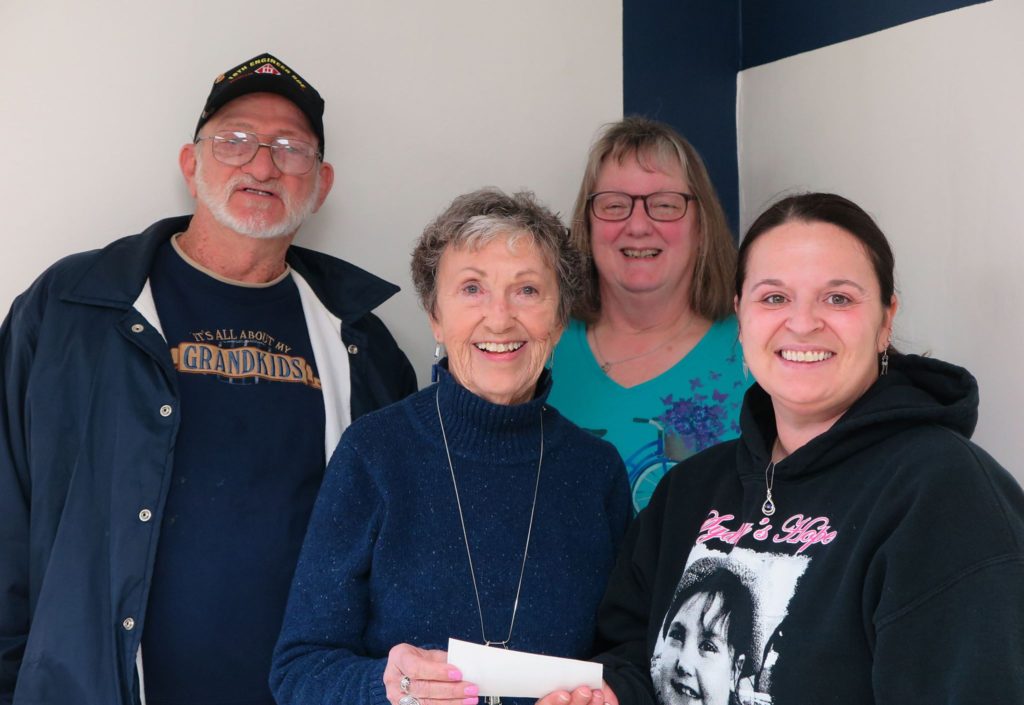 The Nicols were both appointed to the Fayette County Cemetery Board in January of 2013. Cindy was Secretary, and after a year on the board, Dave became President. They attended both Basic and Advanced hands-on cemetery preservation workshops sponsored by the Indiana Historical Society and the Division of Historic Preservation and Archaeology, DNR. Seeking more knowledge, they also attended workshops in Greenfield, Indiana, and two instructed by renowned conservator, Jonathan Appell in Louisville, Kentucky and Richmond, Indiana. Dave and Cindy were instrumental in hosting two preservation workshops conducted in Fayette County, Indiana, instructed by conservator Mark Morton of Gravestone Guardians of Ohio. Mark is currently Treasurer of the Non-Profit group "Cemetery Conservators for United Standards" and is one of the original founders.
During their three years on the Cemetery Board, they maintained (mowed and trimmed on a regular basis) 13 + cemeteries in Fayette County (many that were out in the middle of crops and pastures) and totally preserved two Fayette County cemeteries and made major headway in another. In 2017, they assisted Brandon Kelly of Liberty, Indiana, with his Eagle Scout Project by instructing him and his group of family and volunteers of the approved methods of cleaning and repairing gravestones at Roberts-Halderman Cemetery in Preble County, Ohio.
Both Dave and Cindy have served their terms and are no longer on the board, but continue to maintain four of the Fayette County cemeteries and help train the current board members and volunteers in using approved methods and materials.
To follow the Cemetery Commissions progress, visit their Facebook page: Fayette County Cemetery Commission
For more information on the Cemetery Conservators for United Standards, please visit their website:
http://cemeteryconservatorsunitedstandards.org/
Their website is full of information on Proper Procedures and Materials that can be used.
Other sources for information:
AGS (Association for Gravestone Studies): www.gravestonestudies.org/
NCCPT (National Center for Preservation Technology &Training): www.ncptt.nps.gov/articles/cemetery-conservation/
DNR (Indiana Department of Natural Resources): www.in.gov/dnr/historic/3744.htm